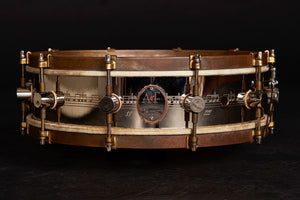 The Bolero, Nickel Over Bronze Snare
Sale price Price $ 2,585.00 Regular price
We wanted to offer a unique snare for orchestra players, one that could go from the sensitive and intricate symphony stage, to a smoky jazz club, to a rock/hip hop session, and back to the orchestra hall, all while resisting drastic tuning changes due to humidity and climate changes.
The Bolero is a 1.8MM hand rolled and welded nickel over bronze shell with hand cut 45 degree bearing edges & our exclusive wide snare beds,  nickel over brass lugs, raw brass tubes, hand rolled and welded 1/8" thick raw brass hoops and, along with our standard external snare, 2 internal snares to boot!  
With 3 snares you basically have 9 different sound variations in one drum!
The Nickel plating over the Bronze really helps fight climate tuning fluctuation with standard heads.  Now of course If your using skin heads, the heads themselves will have hi fluctuations in tension, but the drum will not be the culprit! 
Surrounding the drum you'll see the Bolero sheet music hand engraved by the masterful John Aldridge, which of course is where the drum draws its name! 
We offer the Bolero in a few tried and true sizes, but if you have a specific diameter and/or depth you are looking for, we would love to make it for you!
Also The Bolero, comes with our branded Remo Coated Ambassador Batter Head, and Hazy Snare Side Head, but feel free request other vintage style head options.
Please allow 12 weeks or less for us to hand make and deliver your Bolero