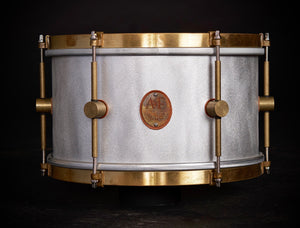 Raw Aluminum Rack Tom
Sale price Price $ 792.00 Regular price
All Raw Aluminum kits are light weight and made from our exclusive Raw Aluminum shells, untreated raw brass lugs, and hoops. We cut, roll, and weld the shells, cut straight 45 Degree edges, then leave them in their complete raw state. 
We do offer our A&F Rack Tom Mount as well.
The Raw Aluminum Kits are dryer then our Royal and Copper kits, not loud by any means but tune lower then their sizes and have a perfect balance between punch, warmth, and attack.  A sound engineers dream, they are extremely microphone friendly! 
Made to Order
Lead Time: 16 weeks