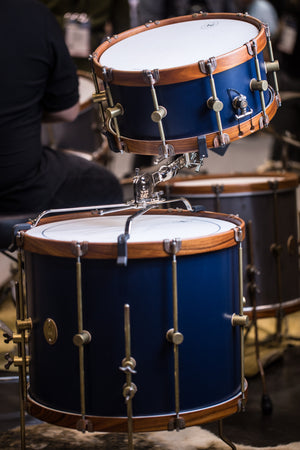 Nickel Cocktail Basket & Kick Pedal Clamp
Sale price Price $ 285.00 Regular price
"The 360 screws, man! Genius!
It took me seconds to set up and I didn't have to break my back nor reach in some weird ass position as usual." -Dan Mayo
"Beautiful, efficient ... so classy." -Mogan Cornebert
What if you could use your own Floor and Snare to make a cocktail kit in 30 seconds or less? Any combination of Floor Tom/Snare you like?
Well here it is, introducing the first ever A&F Drum Co. Cocktail Basket & Kick Pedal Clamp(Patent Pending)!!!
It's fully adjustable to any angle and height allowing you to play sitting or standing and, like our new A&F Drum Co. Hardware, is made from our incredibly strong and durable Carbon Steel in Nickel Plating.
Our first batch of hardware & accessories was supposed to ship March 20th, but unfortunately COVID pushed that back to July 28th.