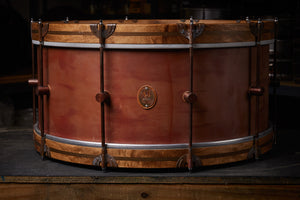 Featherweight Bass Drum
Sale price Price $ 1,389.00 Regular price
All Featherweight Bass Drums are made from our proprietary aluminum shells, lugs and hardware, that's right ALL ALUMINUM with Whisky Maple Hoops, Remo Ambassador heads and a natural burnt orange patina! 
We hand cut, roll, weld, and sand our shells, make our own 15-ply Whisky Maple Hoops,  and expedite the aging process with our proprietary patina method.  We hand cut 45 deg bearing edges and add 10 of our patented aluminum center-mounted lugs and hardware.  
These Bass dums weigh ONLY 10-14lbs!!!
The Featherweight Kits are dryer than our standard metal kits, not loud by any means but tune lower than their sizes and have a perfect balance between punch, warmth, and attack.  Like ALL our drums, a sound engineers dream, they are extremely microphone friendly! 
We can make any size snare drum from 6"-108" diameter and 3"-48" depth. If you would like size beyond what is available in the drop down, please contact us directly with your custom order.
Each Bass drum is built to order.
Lead Time: 16 weeks (longer on 30" or larger drums as these heads will need to be custom ordered).