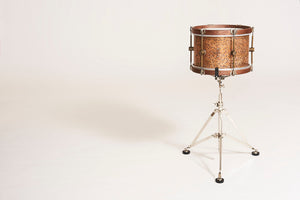 Ankh Rack Tom(A&F Drum Co. & Sabian Collaboration)
Sale price Price $ 2,585.00 Regular price
All Ankh Rack Toms are light weight and hand made from our exclusive raw Bronze shells, hand hammered by Sabian's Finest, topped with our handmade Walnut hoops, and finished with our patented Lugs, treated hardware, Remo Ambassador heads.
We cut sheets of our exclusive Bronze and send them to Sabian to hammer.  Then they send the sheets back to us and we hand roll, weld and sand them, treat them with our patented oxidizing formula to jump start the patina process, cut straight 45 Degree edges.  
Bronze is by far the most expensive of the metals we offer, but not without merit.  These shells are very light and extremely refined in tone and dynamics, the "Rolls Royce" of the metal family if you will!  They tune lower then their size balanced with perfect punch, warmth, AND are extremely microphone friendly! 
VERY LIMITED-We are only making 10 kits this year as it's a arduous and challenging process, one that requires all the attention it deserves!
Made to Order
Lead Time: 20 weeks