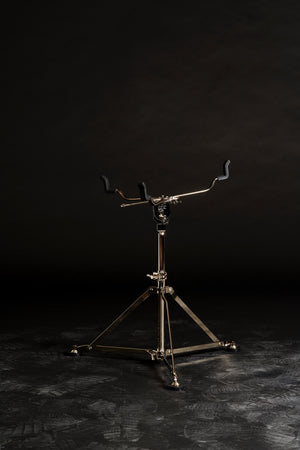 Nickel Snare/Tom/Kick Stands
Sale price Price $ 159.00 Regular price
"Simple, organic and natural to use. No learning curve, no effort, everything just fall into place like it should've been long ago. The 360 screws, man! Genius!" -Dan Mayo 
"They feel great to adjust. Especially from the wrong side... Wow. These things are awesome! Much applause." -Eric Swanson
"Just when I thought my 18" shotgun snare wouldn't ever see a snare stand big enough, this arrived." -Nick Lang
10-16" snare stands are currently on back-order, next batch is expected December 2023.

Nickel over carbon steel
Weighs 5.6lbs(Standard) 5.95(Large)
Standard Snare Stand-10"-16" adjustable locking basket
Large Snare Stand-18"-22" adjustable locking basket
360deg U clamp
Resonant basket sleeves
Pull-pin multi position tripod
1.5" Round surface-adjusting feet
15.5" Short to 27" Tall
Adjusts to a full 90deg angle as a Kick Stand
With the intention of making stands that much like our drums, marry the simple design of old with the engineering and application of the future, we spent 2 years studying over 100 vintage stands.
We worked diligently to refine the elements we really loved of these old stands while completely redesigning those that just didn't hold up.
Why nickel vs. raw brass on all of this?
Nickel was what the finish on all the hardware from early 1900's and over time takes on this beautiful aged tarnished much like the vintage hardware you see today.  Brass is too soft of a metal to sustain the wear and tear of hardware and raw brass would offer too much friction between sliding components.
It's with such great joy that this labor of love resulted in what you see here today. Yes we are reinventing some wheels, and trying to perfect others, lol!
Hope you enjoy the stands and find many additional applications that inspire your creativity!!!