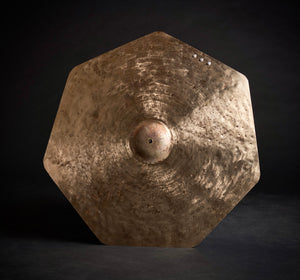 A&F North Star
Sale price Price $ 470.00 Regular price
We've partnered with an incredible Cymbal Smith out of Chicago by the name of Ray Byrne to create a A&F Drum Co. Oddities Cymbal Line!  Ray was kind enough to entertain all our crazy designs and bring them to life, one hand hammered piece at a time!!!
Ramy had dreamt of a 7 sided thin crash/ride with 3 rivets.  He described the sound as fast, warm, and crunchy.  Somehow Ray made it all happen yet again!!!
 The North Star is lathed, hammered, and sanded thin.  It's warm, fairly quiet, with good articulation and a bit of a raw crunchy characteristic.  It has a quick decay and is just tons of fun to play!
Please allow 8 weeks or less for your cymbals to be handmade and ready to ship!