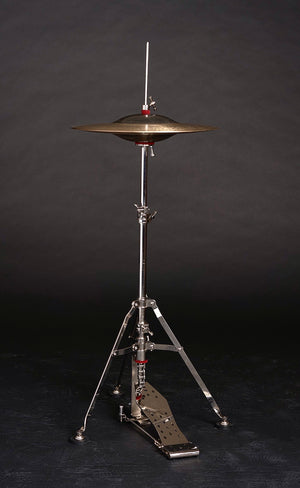 A&F Drum Co. Foldable Hi Hat Stand & Clutch
Sale price Price $ 299.00 Regular price
Please Note: Next batch due to be completed and ready to ship Jan 2022.
"The new refined @anfhardware nickel hardware by @anfdrumco perfectly marries the simple design of old with modern engineering and stability of new." -@chicago_drum_exchange 
"I love the design and the practicality so much, it's perfect. Set up my drums with this wonderful hardware is a huge pleasure. Bravo brothers!" -
Mogan Cornebert
It's love from first sight and you've managed to bring once again something that speaks music in the most beautiful way there is and I'm so grateful" -Dan Mayo
A&F Drum Co. Folding Hi Hat Stand & HH Clutch(Patents Pending). 
 - Nickel Over Carbon Steel
 - Small profile HH Clutch(Patent Pending) w/Red Felt
 - Fully rotating base for additional kick pedal placement 
 - FOLDING!!! (Patent Pending)
 - 360 U Clamp
 - Spring Adjustable chain tension  
 - Red Felts 
 - Adjustable 1.5" rubber feet
 (Please note, next batch anticipated March 2022)

- Interchangeable thin memory lock 
 - One-piece solid carbon steel foot plate(Patent Pending)
 - Weighs 8.5 lbs