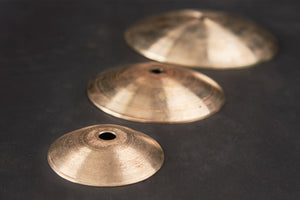 A&F Bells
Sale price Price $ 245.00 Regular price
So we've partnered with a incredible Cymbal Smith out of Chicago by the name of Ray Byrne to create a A&F Drum Co. Oddities Cymbal Line!  Ray was kind enough to entertain all our crazy designs and bring them to life, one hand hammered piece at a time!!!
These 22" HH were made as actual Hi Hats with smaller bells then rides or crashes and intentional uneven edges for air to escape and give that massively awesome "CHICK" sound!!!
  Please 8 weeks or less for your cymbals to be handmade and ready to ship!