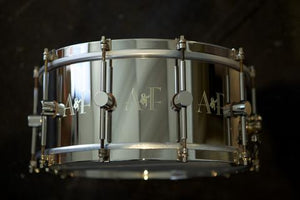 Nickel Over Brass Elite Snare
Sale price Price $ 2,420.00 Regular price
The 6.5x14 Nickel Over Brass Elite Snare is 10-lugs and features our the 2018 A&F Exclusive Hand Engraving.
All Nickel Over Brass Elite Snares are made from our patented raw brass shells, lugs, hoops, and hardware, with hand cut straight 45 degree edges and Hand Filed Snare beds.
We cut, roll, weld and sand each drum. We found a nickel plater in Texas whose family has been plating nickel since 1930's.  The grandson (46) now runs it, and worked with us to nickel plate our brass the way it was done on those 1920's-1930's beautiful antique drum sets!
The Nickel Over Brass Snares have a deep focused and crisp tone with tons of great snare sensitivity to boot.
Made to Order
Lead Time: 30 weeks(due to John Aldridge Engraving Delays)