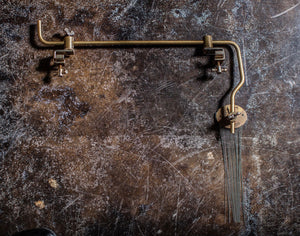 Kick-Bone Raw Brass
Sale price Price $ 389.00 Regular price
"The possibilities are endless." -Mogan Cornebert
"I don't have to walk around the kit to adjust anything" -Eric Swanson
Introducing the A&F Drum Co. Patented Kick-Bone!!!
Add endless acoustic sound effects or muffling to your bass drum and control it on the fly from your drum throne!!!
Attaches to any wood hoops using our wood hoop clamps, just add velcro to any noise maker for tons of analogue acoustic sonic variations, sky's the limit!!!
Our Snare Wires, BFS Tambourine, & Buffing Wheel included with these Raw Brass versions.
These brass versions are made to order with a 6 week lead time.